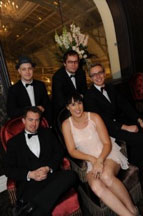 Hello and welcome to the official blog of Sydney Jazz Collective.
We've been making some great live recordings at some of the 150 gigs we perform together each year, and thought it was time to share some of our favourite audio clips with you.
So here is the very first installment of our brand spanking new blog! Featuring some live tracks recorded at a wedding we performed at last weekend.
Hope you enjoy, and watch this space for lots more audio recordings of the band live in action + hopefully some videos coming soon too!
All Or Nothing At All – 26 Feb 2011 @ Sydney Uni Refectory
Vocal Quintet: Vocalist, Sax, Keyboard, Bass, Drums


Alone Together – 26 Feb 2011 @ Sydney Uni Refectory
Instrumental Quartet: Sax, Keyboard, Bass, Drums