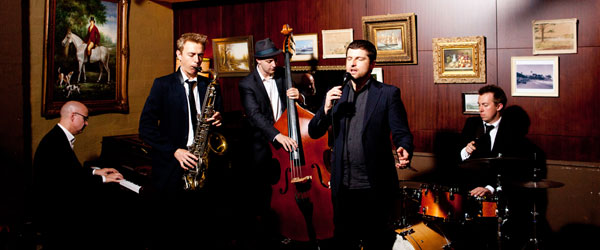 Can We Fill The Dance Floor?
Can jazz musicians play pumping music (later in the night) that will fill the dance floor every time?
ABSOLUTELY! Please listen to our dance set recordings below.
Can cover bands play jazz music then? Not so well, and not so often. Don't take our word for it though – try comparing our dance tracks to demos from other bands (or even with the original artist's recording). Then have a listen to jazz tracks from other bands.
Hear the difference? We can too!
If you want to party – we guarantee a full dance floor every time with a Quintet or larger.
Jazz + Groove Recordings
Sydney Jazz Collective offers a wide variety of ensemble options to allow clients to hire the band in a size (Duo, Trio, Quartet, Quintet, 6-11 Piece Big Band) and style (Jazz, Funk, Pop, Swing, Soul) best suited to each event.
Here are some samples below to help you decide which option is best for you.
Click to download our Sample Song List or to view VIDEOS of the band in action.
If you would like dance music later in the night, we usually perform an energetic selection of well known songs from popular artists such as: Kanye West, Estelle, James Brown, Van Morrison, Michael Buble, Stevie Wonder, Aretha Franklin, Marvin Gaye, Michael Jackson, The Beatles, Cee Lo Green, Amy Winehouse, Jason Mraz, Adele, Bruno Mars, Katy Perry, Maroon 5, Foster The People, Beyonce, etc.