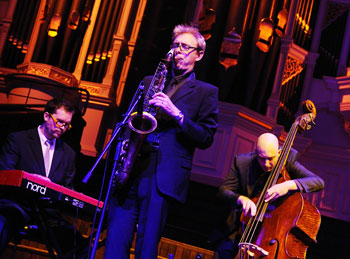 Sydney Jazz Collective Band provides top quality corporate entertainment for functions and events hosted by Australia's largest companies and multinationals. Whether you're looking for a sophisticated lounge trio for a cocktail party to celebrate the opening of a new office space, or a roaring 12 piece big band to fill the dance floor at your annual Christmas party for thousands – we've got a live music option that will work for you.
Corporate Event Priorities
Our corporate clients are often seasoned event planners, but if this is the first time you've booked a live band for a corporate function then we're happy to help guide you through the process based on our experience at previous events. We understand that many of our corporate clients are under time pressure, so we have developed a service with the following priorities in mind:
* Streamlined & reliable booking process for hassle free booking
* Top quality musical performance & professionalism every time
* Understanding the role of live music at corporate events (eg. creating a sophisticated background atmosphere to facilitate networking)
Corporate Experience
Please read through some reviews & testimonials about Sydney Jazz Collective Band from our long list of happy corporate clients including:
James Packer
Vodafone
KPMG
Westpac
Yahoo!
Mercedes Benz
Hilton Hotels
ANZ
Optus
+ hundreds more
Typical Corporate Event
Our polished corporate entertainment service will provide some relaxed ambient jazz to set the perfect scene over drinks & canapes – with the volume soft enough for conversation to take place, while still maintaining a great social atmosphere. We can also turn up the energy later in the night to fill the dance floor if desired. We're also happy to provide acoustic and roving options, so let us know if you have a particular vision for your event and we'd be happy to work with you to bring it to life.
More Information
There is more info on our FAQ page – or alternatively please contact us directly if you have any further questions.